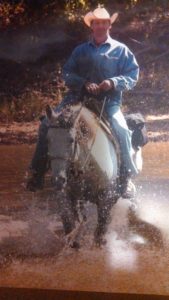 My older brother began the journey into being a maker in the art of leather after a back injury. He was an avid rider and horse trainer and loved nothing more than spending time on his sidekick "Skidder", but once injured, he was told to pick up a hobby what he could sit for a while, which led him to leather work.  His skills were quickly developed and he created some beautiful saddles and other pieces.  Unfortunately, before he could fully develop his skills, he left us to begin another journey when he passed after his fight with MS.
I inherited his leather tools and a few scraps of leather which sat untouched for nearly 2 years. After having dreams, visions and a strong sense of urgency to learn the craft of leather work, Two Brothers Leather Works is my tribute to my big brother and my way to carry on his legacy.
Quality products and a lifetime guarantee are at the heart of what we make and why we do it.  I hope you enjoy, come along for the ride, commission a piece, and share just a little piece of what I feel when the two of us create this art together.
We love our customers and welcome your feedback and suggestions. Use our Contact Us page to tell us what we're doing right or what we can improve on.